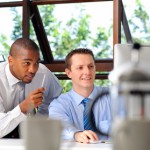 Finding opportunities to be a mentor is easy, as long as you're not expecting to get paid. You can mentor new employees in your business, passing on your wisdom and knowledge of the profession. You can volunteer to mentor at-risk youths who desperately need guidance. You can even look into mentoring online with college students.
What's great about all of these options is that they provide you with the experience you need to be a professional mentor. Most will even give you training before you start. Not only is it easy to get started, but people actually enjoy mentoring. The MENTOR group conducted a national poll in 2005 that found that "96% of existing mentors would recommend mentoring to others." But do you know how to be a mentor and get paid?
First, you must understand that professional mentors are also entrepreneurs. You need to be in business for yourself to get your name out there and find employers or clients. Whether you choose to be self-employed or establish yourself within a company, knowing this will give you an edge over the competition.
I know from personal experience how difficult this can be, especially if you don't have a background in business. When I became self-employed, I thought that having a great product or service would be the most important factor in my success. I was wrong. Knowing how to market myself and my service/product was crucial. Without it, I was dead in the water.
If you're committed to yourself and your potential clients, then you're already winning. Here are the next steps:
Step 1: Gain Experience. Your life experience and drive to help others is a great start, but you're going to need some practical experience to get started. Apply for mentoring anywhere you can. Be open to learning and self-growth.
Step 2: Market Yourself. Learn how to sell yourself both online and offline. Read about it, get training, or just give a try. Once you find a method that works, do it consistently.
Step 3: Hire a Mentor. Every mentor initially needs mentoring. This is a wonderful opportunity to understand what it's like to be a protegee or mentee. Use this information to enhance your own mentoring skills. You may even want to get a business mentor or coach to help you build your business. Remember that you don't have to necessarily pay someone to help you either. Approach someone you trust and respect for their wisdom and advice. Chances are they will gladly take you under their wing.
Step 4: Individualize. Every person is different, and a successful mentor-mentee relationship will vary also. Discover what you excel in, and get a mentor to help you discover how to get through your blocks or weaknesses. The main thing is to stick with it. If you're not good at a certain part of business, find someone who is. Build systems and relationships that support your growth and transformation.
Whether you want to mentor part-time or full-time, with a corporation or as your own boss, following these steps will contribute to your success. For more information on how to be a mentor or life coach and get paid, download Dr. Craig's FREE report today.