How to Optimize Pinterest for Your Life Coaching Business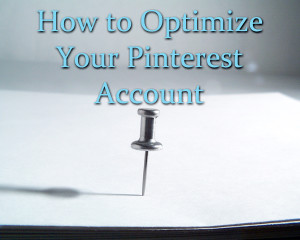 Pinterest has been all the buzz in social networking. It's become the new way to drive traffic, interact with customers, and make sales. A study by BizRate found that "Pinterest is better at inspiring purchases than Facebook". So if you're not on Pinterest already, now is the time to join and promote your life coach business.
Pinterest comes with plenty of free tools to get your started. It's also undergoing some major changes in its design. The following tips will help you get started on the right foot or optimize your current account:
Pinterest has business accounts. Take advantage of this! You can even convert your personal account into a business account by going to the Pinterest business page. Click "Join as a Business" and on the next page click "Convert". The only drawback is that you can't change your Pinterest URL when you convert.
Verify your Website. This makes your website URL at the top of the page more visible, which is great for increasing traffic. It also gives you access to the new Pinterest Analytics, which tracks your pinning activity and helps you understand what "pinners" like. This is a fantastic and free tool. Note that this is only for business accounts.
Know what your audience values. Then, make a separate, focused board for each subject. This way each board is likely to attract interested followers. The more boards you have that please your audience, the wider the net you cast.
Be creative and authentic. If all you do is post a couple of promotional pins for your business and let your account sit, you're not going to get in on the action. No one will want to follow you, and you're not likely to be seen. So put some fun into it! Gather all kinds of pins that relate to your unique life coach business.
Pinterest is getting a new look. This includes large pins, more information when you enlarge a pin, including related pins, and a categories drop down menu next to the search box at the top of the Pinterest page. Keep in mind that with larger pins you'll want to work even harder to have eye-catching images with high resolution.
The best way to get a feel for Pinterest is to start exploring and start pinning! Add the "Pin it" button to your browser to quickly and easily pin almost anything you come across online . . . like elements in this article for instance!