Eight Ways to Market Your Life Coach Business – Free!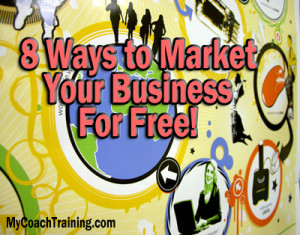 One of the best things about the Internet is all of the free interaction that's available. There are thriving social media sites, forums, videos, blogs, and more. But are you using them to your advantage?
If you have a life coach business, you know that communication can unlock a lot of doors. The Internet is a great way to put your skills to use and begin marketing yourself for free! Here are some of the ways to capitalize on all this free stuff… starting today!


Eight Free Internet Marketing Ideas
Use Press Releases. Whenever you have a notable event coming up in your life coach business, or you just want to let people know that you've started one, write up a press release. This is a great way to get traffic to your site and let people know about you. PRLog.org is a great place to start.
Get on Google Business. Comscore reported in their October 2012 study that Google accounts for 65.2% of searches worldwide. You definitely can't afford to miss out on that! Assuming you have a business location, put that address on Google Maps. You will show up when people are searching for local businesses or how to contact you. Besides your location, you can also provide your phone number, business hours, and even photos for quick and easy access. Upgrading to a Google+ page will provide even more interaction.
Start a Blog. If you have a website, you can easily start a blog just by installing WordPress using a few quick clicks. If you don't have a site, you can still start a free blog on WordPress.com. Blogging is a great way to attract the attention of your target audience and connect with potential clients on a personal level. Remember that the best blogs provide value. Don't just load it up with advertisements and empty content. Regularly post free, helpful information and inspirational posts related to your life coach business.
Use Social Media. Uness you've lived under a rock for the past six years, you know that Facebook, Twitter, Pinterest, LinkedIn and other social sites are a fantastic ways to interact with your target audience and those looking for life coaches and coaching-related topics. More and more, people expect to communicate with brands and businesses directly. This personal interaction develops trust with the added benefit of word of mouth advertising. To take full advantage of this, make sure that you interact regularly by posting updates, links, pictures, etc.
Set Up a Newsletter. When people sign up for your newsletter, you can quickly and directly update a group of people who are actually interested your business whenever you have special offers, new projects, or you just want to send them something uplifting. This is a great resource: you're talking directly to your target audience. One warning: don't send too many newsletters or try to oversell yourself. You'll quickly get flagged as a spammer and this can do a lot of damage to your business.
Join Relevant Online Communities. If you are a dating coach, for example, join forums and blogs about dating and start communicating with other members. Offer some free, original information based on your expertise. Let them know you'd be glad to help if they're looking for advice or a coach, then leave a link to your page. This is also a great way to scope out your target audience and see what people are looking for. When you know what people want, you know what you need to be advertising!
Write How-To Articles. Submit free articles to sites like Wikihow.com, Ezinearticles.com or Answers.com that are related to your life coach niche. For example, a business coach could write an article about "How To Effectively Manage Your Time" with a link to their web site. This is another way to get your name out there and get some traffic, because these sites tend to rank well in search engines (A little insider's secret: set up your own YouTube Channel and start posting regular YouTube how-to videos)!
Learn Internet Marketing. There is a ton of free information about this online. If you really want to expand on your free marketing options, then educate yourself on things like keyword research and site analytics. Once you understand how it works, you can maximize your internet marketing efforts. You will find a great resource for online and offline marketing and mindset at www.6figurecode.com.
Want to learn more right now about how to promote your coaching practice? Then check out Dr. Craig's free report for coaches!