Awesome Free Book: Get Clients Today …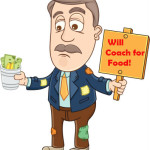 Can you get clients today?  Yes!  There are actually LOTS of ways to get coaching clients:
Stand out on the street corner wearing a sandwich board that says "Will Coach For Food,"
Run an ad offering to PAY people to get coached,
Drop a thousand pamphlets into a war zone offering free coaching with every bullet-proof vest they purchase, or
Get Christian Mickelsen's free best-selling book Get Clients Today (2nd Edition) and start implementing his step-by-step strategies.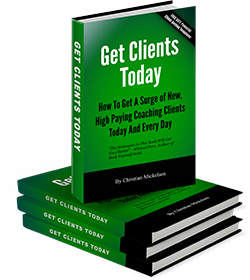 I don't know about you, but I find Method #4 the most reasonable and practical step!!
Since Christian Mickelsen is one of THE most successful coach trainers in the world, you will find DOZENS of ways to find and get actual PAYING clients that don't involve standing on street corners or visiting war zones . . . and he's offering his book FREE for a limited time only (until 8/31/14).
Get it now.  You'll thank me later!