How To Sign Up Coaching Clients for $5-100K Each!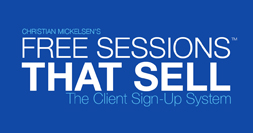 Best-selling author and success coaching expert Christian Michelsen will reveal today on a LIVE TELE-SEMINAR how to sign up clients during a Free Introductory Session to make anywhere from $5,000 to $100,000 PER CLIENT!!
This is a one-time training, and is already over-booked.  Here are the details:
Date:  Monday, August 25, 2014
Time:  7 pm Eastern / 4 pm Pacific / 12 am London /9 am (Tues) Sydney
Christian will reveal the system he created for signing up clients during free intro sessions in such a way that THEY make an easy buying decision and choose YOU as their coach!  During this information-packed session, you will learn how to come across as the EXPERT . . . not like someone trying to be all "Salesy" or gimmicky.
So get to the seminar early –  otherwise you may miss the call!  CLICK ON THE BUTTON BELOW to register for the event, then stream it live during the seminar.