Life Coaching Software Review
Interactive Life Coach™ Review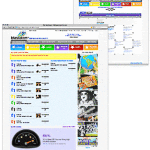 I became aware of Allison Maslon and her work several months ago when I went looking for some effective tools for my coaching clients.  I found that her Interactive Life Coach software is both an inexpensive and powerful tool for those looking for a life coach without the hassle of hiring one, and wanted to offer a brief review.
But first, a little background . . .
About five years ago I was in the market for a program that would help me set – and keep – goals that I set for myself.  Most of the time, my mind was all over the place, and setting goals was (for me anyway) both unpleasant and unrewarding. I hired several coaches who helped me with marketing and the Internet, but none of them could really help me focus in and develop the Logical Soul program in such a way that I felt satisfied.
It was about that time I stumbled across a mentor named Raymond Aaron, who changed my life with his Monthly Mentor Program.  You can click here and sign up now.  His program costs about $3,000 – and I don't get paid anything to send you there, but am happy to do this for my friend Raymond.
Enter Life Coaching Software…
For me at the time, Raymond's Monthly Mentor was a godsend.  I was able to organize and prioritize my life, and start setting goals based on want I really wanted . . . not just what I thought I should be doing.  Soon I got the BIG PICTURE and started taking focused action on goals, based on my talents and motivation.
The only problems with Raymond's program were twofold:
It took a lot of time – usually for listening to CD's, reading the voluminous material, and filling out forms, and
It was expensive to get, and expensive to keep. I would have to keep paying hundreds of dollars each year to stay on the program.
Then I stumbled onto Allison's software, and knew this was the answer.  While her Interactive Life Coach software, and program is maybe a little less massive than the Monthly Mentor, I found it to be easy to understand, clearly laid out, easy and quick to follow, and most of all . . . relatively inexpensive.  I discovered that the ILC software, in fact, costs less than 7%  of Raymond's program!!    This price also made it so affordable I could recommend it to all my coaching clients and friends without hesitation . . . and most of them loved it!
Allison even offers a 15 Day Free Trial  with no obligation!  This made it pretty much a no-brainer for me, so that's why I'm sharing it with you here.
Here's what the Software will do for you
Interactive Life Coach™ will collect all of your goals, ideas, and dreams into one, easy-to-access place. Using this user-friendly software you will be able to
Get the help and support you need to fulfill practically every aspect of your life: career, business, relationships, finances, health and personal happiness!
Create the life you want with the Virtual Big Picture Vision Board
Sync your goals and commitments with your Outlook or iCal
Explore hidden talents and release creative roadblocks
Stay focused on your goals and track your progress
Get clarity and set your Financial Goals for your Life and Business
Manage your projects easily
Get daily Motivation and Inspiration
Overcome feelings of overwhelm, procrastination or disorganization, and
Access the software any time from your computer, smart phone, or I-pad!
Life Coaching Software Offer
If this all sounds great – and you like the price (Free!), then sign up below to start your no-obligation trial today!  If you don't feel it's right for you, however, don't let this opportunity pass for a deserving client or friend.  Pass it on!


Allison Maslon's Interactive Coach(tm) software compares quite favorably to expensive coaching programs costing thousands more, and comes in a highly-interactive online format that is easy to use and effective for getting focused and staying on track with your goals.