Frigid Unicycle Ride Continues
Cold Days on a Unicycle…
As you may remember from last week's blog post, I was starting out on a 200-mile journey on a UNICYCLE ride from Smyrna, Georgia to Anniston, Alabama and back this past Thursday, November 13th.  I'm riding for charity…. but I gotta tell you… it's been COLD out here these past few days!!  According to all weather reports I've heard, this is the coldest stretch in over 40 years . . . just my luck to plan a ride in such weather, huh!
But the ride for charity must go on . . . Thank goodness the heat of pedaling has kept me from becoming a "cycling icicle"… I just keep rolling along. [Michael's Note:  I published this post before leaving, so the earlier reference to Merritt and the timetable was incorrect . . . Merritt  rode the first day with me, but had to leave the trail and return Friday morning.  Since then I have carried on without him, but it's taken me a day longer.]
Today (Sunday) I left Jacksonville, Alabama and touched the end of the Chief Ladiga Trail in Anniston, AL, only about 5 miles away.  I then headed Northeast, stopped in Piedmont while it rained, then Monday morning cycled through the Georgia-Alabama border where I lost an hour heading into Cedartown, GA to spend the night.  Tuesday it'll be about 30 miles . . . light by comparison to Merritt's and my initial 40-mile day!
Funny thing, football.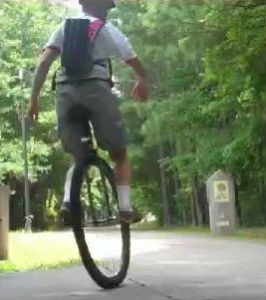 Jacksonville is a college town, and a hotbed of Auburn football fans.  Cedartown, on the other hand, has rabid Georgia Bulldog fans.  It's a gas to run into both factions on the same day!
Piedmont, Alabama is between the two towns and is kind of laid back.  It has a decent welcome center, hotel and restaurants . . . and is a great place to stop off, mid-ride.
Remember, I'm riding to raise money for the Nepalese orphans, so how 'bout doing us all – and yourself – a favor and hopping over to http://1000mileproject.org and click the "Donate" button with the PayPal link and give a few bucks to watch me bust my buns out here . . .
Tuesday I'll be home . . . and promise to stick to coach training material for a while after that! 😉
[Michael's Note:  I made it home, but on Wednesday…]