Life Coaching: New Trend?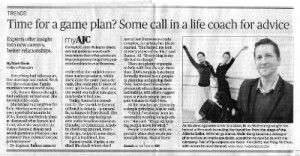 I just finished reading an article by writer Mark Davis in the Living Section of today's Atlanta Journal-Constitution entitled "Time for a Game Plan?  Some Call in a Life Coach for Advice."  The category heading of the article was "Trends," so I suspect the AJC has its fingers on the pulse of the public after all!
This AJC article is only the latest barrage of articles, blog posts, and media human interest stories that have come to light over the past few years.  If you are a life coach or business coach who sometimes feels alone or dejected because you don't have enough clients, its good to know that "the Trend is your friend!"  
Below are some excerpts from the article.  It is one of many you can find at www.MyAJC.com/living where they also offer that you "check out our guide to recent self-help books that offer advice on improving everything from your relationships to your finances." 
Article Excerpts:
"Everything had fallen apart. Her marriage had ended. Work felt like a dead end. Family members were a world away.
"Life, Renata Ramos thought, had suddenly turned sour. She needed a life coach.
"She turned to a neighbor for help. Meeting several times over a period of months in 2013, Ramos and Melody Maziar discussed what Ramos had done, what she wanted to do. Maziar listened closely and asked questions: What are your passions? Your hobbies? Are you dating anyone?

"By degrees, Ramos came to realize that she could do more than market products, which she'd done for more than a decade.  She could put 15 years of marriage behind her.  and, yes, the world was full of cute guys; maybe she'd find one..
"Today, Ramos is a consultant for the Consulate General of Brazil in Atlanta – a natural fit, as Ramos is from Brazil.  she also lends her marketing talents to the Brazilian-American Chamber of Commerce.  A hobby she'd long ignored, interior design, helps fill some days.  "She got a boyfriend too.
"Ramos credits Mazier, a certified life coach whom (sic) she'd met at her Dunwoody condo complex, for getting her life re-started. 'She helped me look at every aspect of my life,' said Ramos, 43.  'Everything in my life had to change.'
"There are plenty of people to help with that change.  More than 700 Georgians have been formally trained to aid people in planning and guiding their lives.  some specialize in employment; others focus on relationships; still others suggest ways in which people can regain balance in their lives . . ."
The article continues at the AJC website.