Video 2: The Secret Formula
Last week, I discussed the differences between "Internet Marketing" and "Online Marketing" for entrepreneurs, the keys to turning failure into success, and presented a clip from a recent workshop on marketing success – the first of three video clips I'll be bringing you.   Today we'll cover…
The Secret Formula for Coach Marketing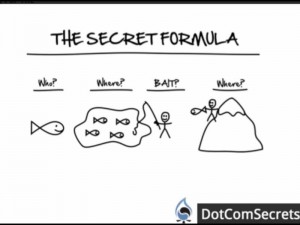 How do you normally market your coaching practice?  Go to lots of group meetings and events to meet and network with other coaches and professionals?  Call all your friends and family members to tell them what you do and ask for referrals?  Run a newspaper ad?  Or send out a bunch of social media posts and articles hoping to get "Likes" and maybe a few leads?
If you are serious about selling your coaching, the answer is "None of the above."
The reason is simple:  throwing darts at a dart board while blindfolded may be recreational, but is no way to build a business.  You need a solid approach that a) defines your ideal customer, b) tells you where they hang out, c) how to get them interested in your coaching, and d) where to lead them once you have them.   This is the "Secret Formula" that is covered in Russell Brunson's FREE BOOK on DotCom Secrets, and in our second clip from a workshop he gave last year.
Here is Video 2 of our 3-part series (about 8 minutes).  Pl!ease leave a comment afterwards!