Sri Lankan Memories, Friends and Ancient Cities
Sir Anton…
Wow – what a week!  So much to tell you , but writing blogs here is challenging…. I'll cover the highlights.
Ifthi picked us up in Negombo and took us to Galle, with a side trip to Colombo and a nostalgic visit to the home and clinic of my former teacher and mentor, Dr. Sir Anton Jayasuyia, who passed away in 2005.  Anton's clinic, formerly called Medicina Alternativa when I was there in 1987, has been renamed Sir Anton Jayasuriya International Center of Acupuncture in his honor.  It is currently thriving, and still attracts doctors and acupuncture students from all over the world.
On To Galle
Afterwards, Ifthi drove south for a couple of hours, finally arriving in the ancient Dutch fort city of Galle where he and his family and ancestors have lived as gem traders for generations.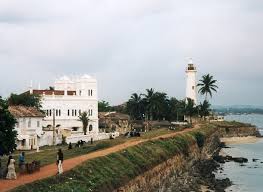 Ifthi's family is particularly gracious since, as Muslims, they treat all visitors to their home with great respect and honor.  It was a privilege staying with them those few days, and getting Soma to the nearby beaches, where she would spend the whole trip if she could!
Galle is exciting just to wander about and explore.  There are a few remnants of the 2004 Tsunami, including the vacant ruins of Ifthi's former thriving gem dealership.  He has made great strides since then, however, to buy and sell precious rubies, sapphires, and moonstones since that's what he knows best. .
Ancient Cities
After a few days in Galle, we headed north again, through Colombo and towards Anaradnapura, the oldest large city in Sri Lanka, dating back to before the time of Buddha, 2500 years ago.  We also visited Polonnurawa, and climbed the ancient mountain fortress of Sigiriya – a huge outcropping in the middle of a semi-arid plain.
Back to Galle
After the long tour which also included stays in the highlands at Kandy, and the venerable Hill Club in Nuwara Eliya, we also visited the Dambulla Cave Temple and other sites, returning "home" to Galle yesterday so Soma could continue her sunbathing regimen before we fly again to India on Wednesday.
Next Week:  Mumbai, Poona, Delhi and the Taj Mahal
HEY – Give us a comment below and let us know what you think!