Relationships: A Generational Balancing Act
The subject of relationships has baffled learned scholars, scientists, poets and politicians for as long as mankind has lived on this planet.    Relationships are both necessary for the survival of the species, and can also be frustrating beyond comprehension.
So what to do?  Is there a way to understand our spouses, friends co-workers and family members in such a way as to take the mystery and pain out of this universal phenomenon??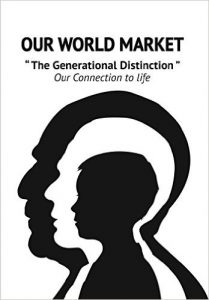 According to Robert W. Blazer, there is a powerful way to both understand human nature and find compatible partners for any endeavor we care to make a success.
Mr. Blazer makes this claim based on his own experience of creating and running a successful organization.    Along with his wife, Robert founded, owns and runs the very popular DeKalb Farmers Market in the metro Atlanta area.
He also wrote a book back in 2014 with the dubious title Our World Market: The Generational Distinction; Our Connection to Life, available on Amazon.com.  In it, Blazer points out that, aside from our gender as man or woman, we have inherited a tendency towards either expansion or contraction in the way we deal with others and the world around us.
The author also claims that we work best with opposite-energy people, and has put this theory to work in his market successfully for years. This fits very neatly with Yin and Yang theories of the ancient Chinese, with a slightly modern spin on it (Yin being expanding energy and Yang being contracting energy).
According to Blazer, each generation is also responsible for the outcome of their offspring's expanding-contracting tendencies, as well as their gender.  If the father, for example, is contracting, his son will also be expanding, and vice-versa.  Likewise, mother-daughter relationships are equally balanced, and grandparents add to the mixture in that they understand their same-sex grandchildren.
There is much in the book about "balanced" relationships, primarily in marriage and procreation, and how imbalances can – and do – lead to problems.  Same energy couples, for example, can understand one another, but the union will not last, and the children of such a union might suffer genetically, which then leads to more problems in succeeding generations.
Robert Blazer's book covers some profound material.  In my opinion, however, the wording of the title has very little to do with the content of the book (e.g., "world market" is not even defined until after page 150!), and may consequently dissuade most from even peeking inside.  Further, even if they start reading,  they may not get far because of the lack of "dumbing down" in this book that most readers have come to expect.
This is a shame, because a lot of what Blazer covers is so unique, interesting, and universally relevant.  The presentation can even be somewhat overlooked, however, if you consider the book was written by a trained engineer, not a writer.
But the title and presentation is everything, especially on Amazon Kindle.  For this reason I didn't want to read it either.
My wife first bought several copies of this book at the Farmers Market when it was published, and gushed on about how great it was.  But it took me almost two years to get past the title and actually read the whole thing.  As an author myself, I guess I was too quick to judge the book by its cover…
I've now read the book.  I must say, however, that while I can easily attribute an A+ to Blazer's work for uniqueness and insight, I must in all fairness assign him a C for writing style, and a D for presentation.   But don't let the latter grades stop you.  If you can get past the title and presentation, get this book at Amazon.com.
You'll be glad you did.
Our World Market… is well-worth your investment in time and money, and may even save your relationships or your company!
Robert Blazer's book on relationships through generations is surprisingly profound and practical, once you get past the title.