Would You Like Me To Personally
Double, Triple, or Even
Quadruple Your Practice

. . . For Free?

From the Desk of Michael Craig

Norcross, Georgia USA

July 3, 2014

Dear Coach,

I'm looking for a few "dream" clients who I can personally help to bring

massive windfalls

into their practice!

If you are that client,

I will personally work with you one-on-one in your business to help you

double, triple, or maybe even quadruple your revenue over the next 12 months

.

And here's the kicker:



You Pay Nothing Out of Pocket. Ever.
Here's why.
The first thing I'm going to do is personally help you create a strategic plan to bring in immediate money.
There's no charge for this, and it only takes about 45-90 minutes for us to do it together. (After doing this type of thing for several years, I've gotten pretty good and getting results).
The thing is,
I'll even do most of the heavy lifting for you
. . . I'll tell you exactly what to set up, how to position your offer to coaching clients, and how to bring in additional "back-end" money as well.
At the end of this initial planning session,
one of three things will happen:
1.
You love the plan
and decide to implement it on your own. If this is the case, I'll wish you the best of luck and ask that you keep in touch with me to let me know how you're doing.
2. You love the plan and ask to
become my client
so I can personally help you execute, maximize, and profit from it ASAP.
If that's the case, we'll knock it out of the park . . . And that's a promise! Every single one of my clients gets results
. Literally.
Every. Single. One.
3.
In the unlikely (and unprecedented) event that you feel like you wasted your time,
I will send you a FREE GIFT (valued at least $50) as immediate compensation.
No questions asked. Your time is your most valuable asset, and I respect that.
It really is that simple, and there's no catch
.
Think about it.
The "worst" that can happen is you get paid for "wasting" 45-90 minutes of your time.
The best that can happen is we work together one on one to increase sales and profit several times over.
That's Why This Is
The Closest Thing To FREE MONEY
You'll Ever See.
Here's how it's going to work
:
First,
we get on the phone (or Skype) one-on-one and go over your coaching or consulting practice.
I take a look at what you've got, what you're doing, and what you want to achieve going forward.
Second,
once we have the "raw materials" to work with, I help you come up with a strategic plan of action to
immediately increase your profits dramatically.
There are a number of ways I might do this for you.
For example, I might show you how to
restructure your coaching offer
for better conversions or a better price. I might go over ways you can
create recurring income
for your practice, how to
pull in clients from untapped sources,
how to
reactivate past clients,
or how to
become a media darling
with interviews in print and on radio or TV to help you build both immediate authority and a huge client base.
And, as I said,
there's no charge for this.
So Why Would I Offer It?
Two reasons:
First of all, I enjoy it. This type of thing is what I do best, and it makes me very happy to see someone I worked with
achieve personal, financial and professional success.
Second, this is how I attract top-level clients.
Here's how
that
works:
Assuming
you're completely happy and want me to crank out these types of plans for you all the time,
you'll probably want to continue working with me long term so I can help you implement them.
If this is the case, I might invite you to become a consulting client.
The average "fee" for my Bronze Coaching program is $1,700 a month . . . but if you think about it,
it really doesn't "cost" you anything.
Why?


Because I expect to help you
make much more than $1,700 in the first month
. . . and if we keep working together over the next 12 months, I'm confident I can double your entire business . . .
at minimum.
Actually, I can give you a plan to make more than this during our first conversation – which is
free!
So, you'll see the value by the time we hang up the phone – without ever spending a dime.
And look …if you don't want to become a client, don't worry about it. You won't be sales pitched or pressured by me or any of my staff. Ever.
In fact, here's my "Big Bold-Ass Promise" to you
:
You Find Our Conversation To Be Incredibly
Valuable
Or I'll send You that $50 Gift Immediately


To Compensate You For Your Time.

Now, obviously this is an amazing offer which you will rarely see from other coach trainers or marketing "gurus" out there.

Think about it.

I'm personally generating a profit-plan

for you

up front –

for free

– and then letting you pay me later if (

and only if

) you decide to work together long term.

Plus, I'm taking it one BOLD step further by guaranteeing you'll find this free plan immensely valuable – or

I'll send you that Free Gift

just for wasting your time.

Just tell me; it's yours. No questions asked.
Who Else Would Do This?
No Coach Trainer I know.
But I'm happy to put it on the line like this because my consulting clients always get great results.
Period.
After all, I'm the highest paid direct response coaching and transformation consultant on the planet
for a reason.
Maybe that's why coach trainer and star of the movie
The Secret,
Joe Vitale, wrote in the Foreword to my book
The Six Figure Coach
:
"The key to [coach] training is taking care of your inner beliefs first. That's why I love Dr. Michael Craig's work; he knows success is an inside job!"
Maybe that's why I've been cited by ABC, CBS, NBC, Fox, and various radio shows, books and articles.
The point is, I'll no doubt get a LOT of interest from this letter.
This is NOT For Everybody.
Here's Who I CAN Help...
I'm VERY picky about who I'll speak with and I've got a strict (but reasonable) set of criteria that need to be met in order for us to proceed.
Here it is:
1. You have to have a coaching practice already.
This offer is for life or business coaches who are up and running already, and simply want to run a lot faster and a lot farther.

You should already be earning

at least

$18,000 FROM COACHING each year, full or part-time.

As you can imagine, I won't work with beginners, get-rich quick folks, or network marketing ("biz-opp") folks. Please. No shenanigans.
2. You must have already have a fairly steady flow of leads and customers.
This means that you're getting consistent leads for your coaching already, and converting many of them. You're running ads, networking, promoting yourself, and really coaching.

You don't have to be "everywhere" or "huge" (after all, $18K is pretty tiny!) . . . I just need you to be PRESENT in the coaching world.

3. You must have a list of clients.
It really doesn't have to be a big list . . . just responsive. (Size, in this case, does NOT matter!)

4. You must a good reputation, and a record of getting results with your clients.
Everything we do together will not only be bringing you more coaching clients and profits, we'll be doing it in such a way as to create MASSIVE goodwill in your market!

And in order for us to do that, you need to have your act together.

In other words, you need to be legit.

5. You MUST follow directions
(Don't worry, I won't ask you to do anything weird!)
After all, if you don't actually implement the stuff I give you, neither one of us will make money.

That's it!
Those are all my requirements.
If, however, you do NOT meet the above requirements
but are still driven to build a successful coaching career, don't give up. You can EASILY get to the $18K level simply by taking advantage of all the

FREE STUFF

we have to offer on our training site, and getting on my list by signing up for one or more of the

Free Reports on getting clients, list-building, etc.

that we offer from time to time.

So check out the really awesome videos, blog posts, downloads and online/offline workshops to help you start your practice off on the right foot at our website at www.MyCoachTraining.com.

And whenever you do, PLEASE leave me a comment on the page, blog post or video - I'd love to know how you're doing!



Here's What I Want You To Do Next
If you meet the criteria above and would like to talk to me personally about getting you some incredible results, I'll happily set aside some time for you.
Here's how the process works:
First, you'll need to fill out an application
. Don't worry, it's simple and unobtrusive.
I just need to know what you are coaching (or consulting), get an idea of what you want to accomplish, and similar things.
Here's What Will Happen After That
Once I have your application, Sedi (pron.
"Say-dee"
) or someone else from my office will call or Skype you to set up a time for us to talk.
Sedi, my "right-hand lady," has been with me for over a year and she, a few Interns, and a VA are the only staff I have. One of these will be in touch with you within 48 hours of receiving your application.
Our initial call will be between 45 and 90 minutes. This is where we really begin working to figure out exactly what you want …and how to make it happen.
I'll painstakingly review your goals, your offers, etc., and
I'll deliver a plan to bring in more money and/or clients immediately.
If you see the value in becoming a high level client, great! We can talk about it.
If you don't want to become a client – that's OK too. We'll part as friends and I'll return your deposit as soon as we hang up. No biggee.
And if you tell me I've wasted your time, you'll owe me nothing
...
PLUS I'll send you a $50 Gift!
So you literally can't lose.
(By the way – I've never had anyone feel like their time was wasted. Ever. That's why I can make this offer. I DELIVER. Who else would make such an offer unless they could do what they say they can do?)
WARNING – TIME IS A FACTOR
This opportunity is extremely limited because of the intense one-on-one time needed to provide you with results.
Therefore, it is physically impossible for me to work with more than a handful of people.
Also, you should realize there's a very large demand for personal one-on-one help from me, and
what I'm offering to you is unprecedented.
So with that said, know that the window of opportunity won't be open long.
If you feel like this is right for you, click on the link or button below,
fill out the application, and let's talk.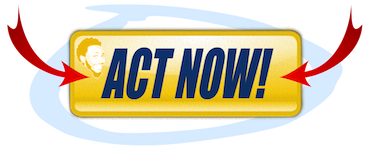 To Your Success,
Michael Craig